Baby Jack rescued by life-changing cord blood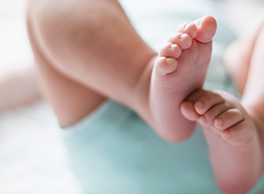 When he was born at Mount Sinai Hospital in Toronto, Jack was not breathing and was non-responsive.
Doctors whisked him away from his mother and started efforts to resuscitate him. They managed to save his life but soon had to deliver some bad news to his parents, Stephen Pankratz and Kim Kucher.
Their son had Hypoxic Ischemic Encephalopathy (HIE), brain damage caused by lack of oxygen and compounded by low blood flow to vital organs. Jack would likely suffer extensive cognitive and physical problems.
But at only 12 days old Jack was re infused with his own stem cells – the youngest person ever to undergo stem cell therapy in Canada and the first person in the country to be treated for HIE with stem cells.
Doctors believe he may turn out to be the first of many.
Two years later, Jack is thriving. He has cerebral palsy and faces many challenges, but his development has exceeded doctor's expectations. His mother attributes his progress to the re-infusion.
Dr. Joanne Kurtzberg, a researcher at Duke University in Durham, N.C, has been leading clinical trials to determine whether cord blood can help to repair the brain. Research results published by Duke University indicate that early transfusion of cord stem cells is effective.
Jack's parents discovered Kurtzberg's findings while doing research on HIE in the days following their son's birth. They brought them to the attention of his neonatologist, Dr Karen Pape.
"She was open to hearing what we had to say and she read the research findings that we had given her," says Pankratz. "She came to the same conclusion as us — that the potential benefits of a stem cell transplant outweighed the risks.
In scientific and medical circles, many stem cell experts are predicting the dawn of a new era in the treatment of HIE, autism and other brain disorders – with cord blood stem cells treatment playing a key role.
To learn more about saving your baby's cord blood request an information kit here.