November 2008
Inside this Issue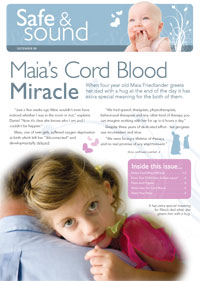 Read the complete stories from the November 2008 CordBank Safe and Sound newsletter (PDF).
Maia's Cord Blood Miracle
When four-year-old Maia Friedlander greets her dad with a hug at the end of the day it has extra special meaning for the both of them. Click here to view Maia's cord blood treatment success story.
Does Your Child Have a Brain Injury?
CordBank is currently in discussion with a range of medical professional to see whether the therapy Maia received can be provided for other children in New Zealand who have access to their own cord blood.
Facts and Figures
More Uses For Cord Blood
Share Your Story