April 08 Winners: The Reeves Family of Belmont
April 08 Winners: The Reeves Family of Belmont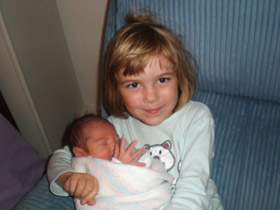 An Auckland Mum who banked her baby's cord blood in the hope that it might one day help his wheelchair-bound older sister has won all her CordBank costs back in our latest competition.
Kate Reeves was delighted to find she had won the April promotion, and said the $5,000 credit would go towards a $6,000 special chair the family need for their little girl.
Kate's five-year-old daughter Natalie has spinal muscular atrophy, a genetic disorder where part of her DNA is missing.
When Kate fell pregnant for a second time, she thought she should bank the baby's cord blood in case it could one day be used to help Natalie with her condition.
"As I understand it, the medical technology isn't quite there yet for what we would need to do for Natalie, but I wanted to give us the chance if that day comes."
Baby Alex was born on 16 April, and is happy and healthy, apart from a touch of colic. Kate and her husband Steve now have his cord blood should he ever need it, as well as a possible match for Natalie.
Natalie's spinal muscular atrophy means that she has muscle weakness and is unable to stand or walk. She gets around in a power wheel-chair.
"Her wheel-chair was Government-funded, but we do have ongoing costs associated with her condition, so getting our CordBank costs back will be really helpful. We've been wanting to get her a special chair so she can sit at the dining table with the rest of the family, rather than having to be in her wheelchair all the time, so that's what the money will go towards."
Kate and her husband Steve live in Belmont, on Auckland's North Shore. She is an accountant, currently on maternity leave, and he works as a self-employed gardener.